Skinny Dip Candle
Regular price
Sale price
$17.00 USD
Unit price
per
Sale
Sold out
We've combined several everyday items you already use and associate with self care and intimacy into one high quality product that helps you slow down, reconnect with yourself, or create an intimate moment with a partner using your senses.
Our natural body candles have the aesthetic and aromatherapeutic qualities of a candle, the skin-nourishing properties of lotion, and the physical and emotional benefits of massage!
Smells Like
Sipping on a sweet red wine while touring a vineyard in Tuscany.
Scent Notes: Pomegranate, Fig.
Skin-Nourishing Ingredients
Cosmetic-Grade Soy Wax, Avocado oil, Coconut Oil, Shea Oil, Beeswax, Sunflower Oil, Cocoa Butter, Vitamin E, Skin-safe Fragrance Oil.
Size
4oz
*Formerly Pomegranate Fig
Share
View full details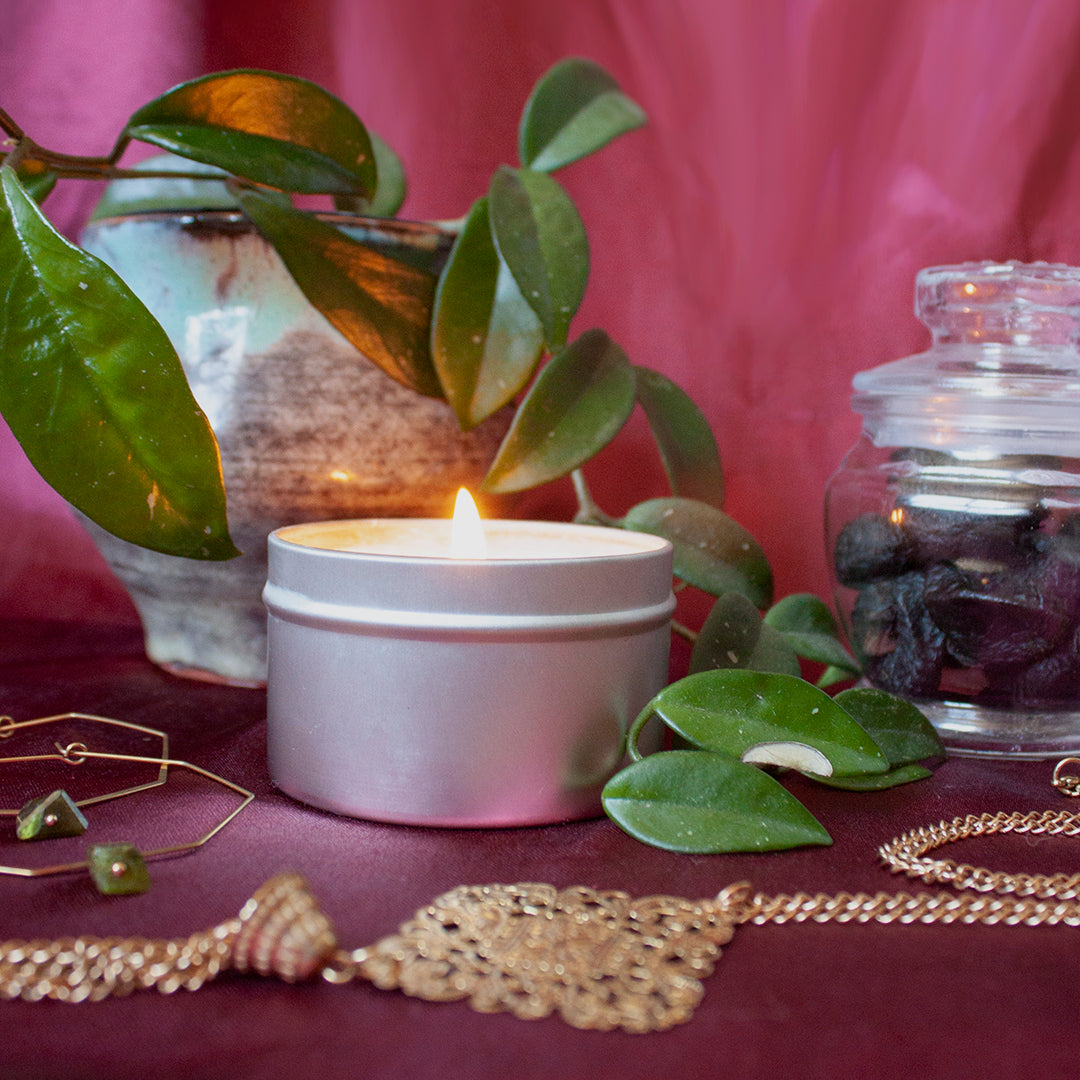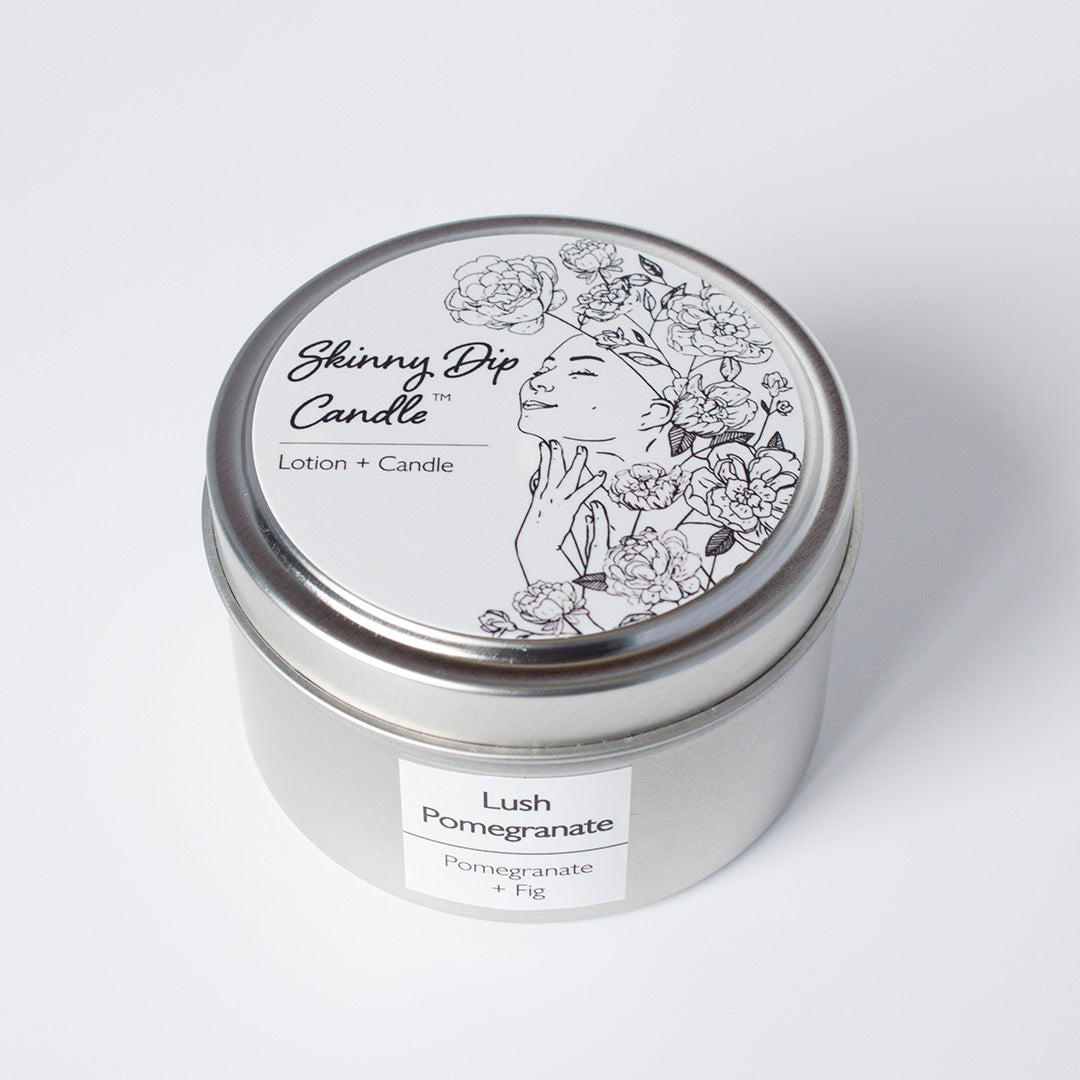 FAQs
How do I use Skinny Dip Candles?

Skinny Dip Candles are very easy to use! They can, of course, be used as a normal candle simply by lighting it.

For use as lotion or massage oil, you'll need to:

Light the candle
Wait for a sizeable melt pool to form (here's our Burn Time Estimator)
Extinguish the flame
Pour or scoop the wax directly onto skin. You do not need to wait for the wax to cool! It will only warm to a comfortable 102 degrees Fahrenheit.
Massage the wax into skin

For use as a balm, just scoop out the wax while it's cool using the provided scoop or the back of your thumbnail and rub it in.

Watch How-To Video
Is the wax really safe for skin?

Absolutely! Skinny Dip Candles were formulated for use on skin, which is why we selected a soy baseand added ingredients that are nourishing and moisturizing such as avocado oil, coconut oil, cocoa butter, shea butter and more! Even our fragrances are used in small enough quantities to remain non-toxic.
What do you use to scent your candles?

We have a large variety of fragrance choices. Some are synthetic and some are essential oil only, which is listed within the product descriptions as well as on the labels. Don't worry, though, all are used in skin-safe quantities so as not to be toxic! (Note: This also means our candles are not made to scent a large room.)

Our Sensual Edible line is scented with unsweetened flavor oils (like a chapstick)! They are safe for internal consumption in lickable doses and our ingredients are food-grade. The candles don't taste like much, though, and are not a replacement for food.
Are the tins recyclable?

Our candle tins are 100% recyclable tin and we hope you will indeed reuse or recycle them! The wax can be used down to the very last drop by scooping and using as balm even after the wick runs out. You can then wash it out with dish soap and hot water and re-purpose to hold spices, office supplies, small gadgets and more! Or, simply drop in the recycling. We are also happy to take back tins to sanitize for re-use.
Are these candles clean-burning?

The short answer is yes and we wrote a whole blog about this topic that we hope you'll check out HERE.